STONIER IS NOW BACK IN LOCAL FAMILY OWNERSHIP
Stonier is now back in local family ownership for the first time since the Stonier family sold the winery in 1999. Three local families; Drummond, McLeod & Thickins acquired the winery, vineyard, and brand in December 2022.
"Growing up on the Peninsula, I always looked at Stonier as the benchmark fine wine producer. Brian had a very clear ambition to put Mornington Peninsula fine wine on the global stage…and he achieved that before he sold out I the late 1990's. In 1999 Decanter awarded the Stonier 1997 Reserve Pinot Noir. Best New World Red Wine of the Year. This award was followed by the 2001 International Wine Challenge in London where Stonier won the Trophy for Best Chardonnay and Best White Wine of Show for its 1999 Stonier Reserve Chardonnay. As Andrew Caillard MW wrote in his book The Essence of Dreams "this was a coming of age for Peninsula Wine".
It is our ambition to continue on that tradition and cement Stonier as a leading and relevant Global fine wine brand. We have some of the oldest and best vineyards on the Peninsula, a pedigree for great wine, and the people with a combined experience of quality farming, great winemaking and building world class wine businesses.
We hope that you will continue to support us for what is really the next chapter in Stonier's amazing pioneering history".
Cheers - Aaron Drummond
"When the 1999 Stonier Reserve Chardonnay won London's International Wine Challenge in 2001 it felt like a coming of age for the region"
Andrew Caillard MW
OUR HISTORY
Brian Stonier founded Stonier in 1978 and in doing so, became one of the pioneer vignerons on the Mornington Peninsula.
Brian's ambition was to put Mornington Peninsula fine wine on the world stage, and in the late 1990's the world began to take notice. In 1999 Decanter awarded the Stonier 1997 Reserve Pinot Noir. Best New World Red Wine of the Year. This award was followed by the 2001 International Wine Challenge in London where Stonier won the Trophy for Best Chardonnay and Best White Wine of Show for its 1999 Stonier Reserve Chardonnay.
Stonier's focus on Single Vineyard Wines began to gain momentum at the turn of the new decade with the release of its 2000 KBS Vineyard Chardonnay. In 1991, Stonier's new winery and cellar door were completed, designed by renowned Melbourne architect Daryl Jackson. The building was officially opened by then Governor of Victoria, Dr Davis McCaughey.
OUR PEOPLE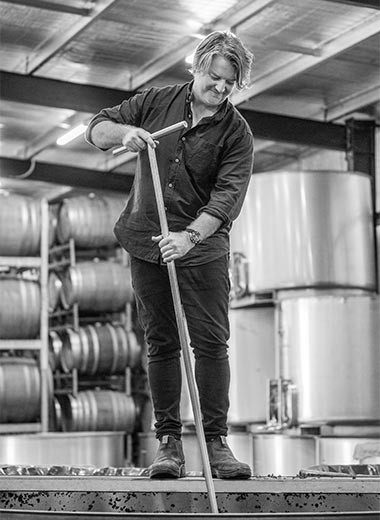 Aaron Drummond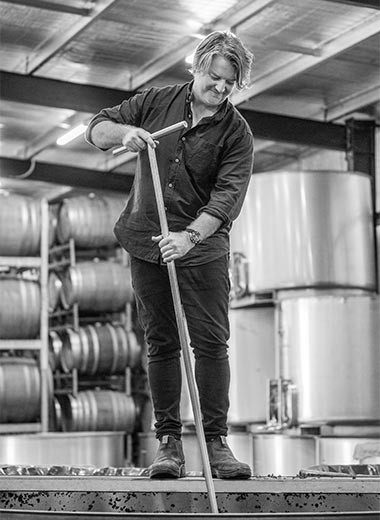 Aaron Drummond
CO-OWNER / CEO
Aaron grew up on the Mornington Peninsula. His foray into wine started in the early 2000's when he started leasing a disused vineyard at a friends farm. From there it was a combination of building his own family wine businesses (Fallen Giants & Circe) and working across leading fine wine producers, initially Mount Langi Ghiran, and later Yering Station & Xanadu. In 2015 Aaron left for NZ to take up the GM role at iconic New Zealand Winery, Craggy Range. After 8 years in Hawke's Bay, the opportunity to come home and be part of the next chapter of Stonier was too amazing to pass up.
Aside from Stonier, Aaron sits on the Board of Craggy Range and Brick Lane Brewing.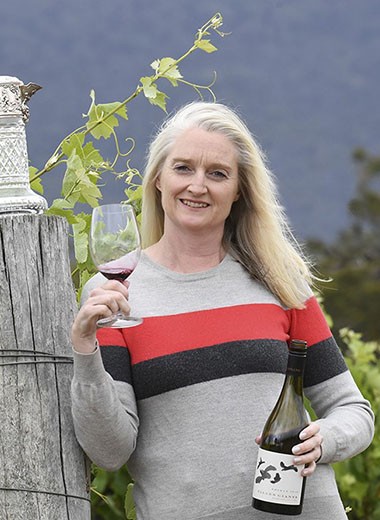 Rebecca Drummond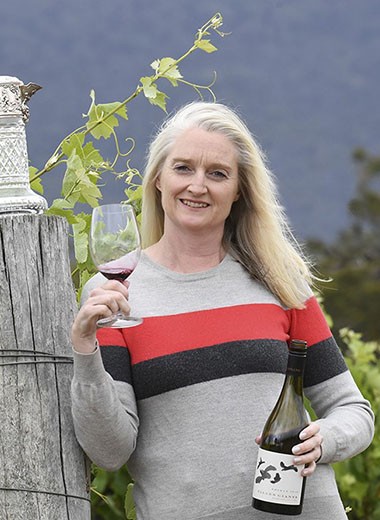 Rebecca Drummond
CO-OWNER / CFO
Rebecca has a finance background and after 10 years in Investment Banking around the world decided working with her brother Aaron in the Vineyard was far more fun…she may have been slightly dillusional! However 10 years later Rebecca is still running her Grampians vineyard and working with her Brother at Stonier overseeing the Finance function.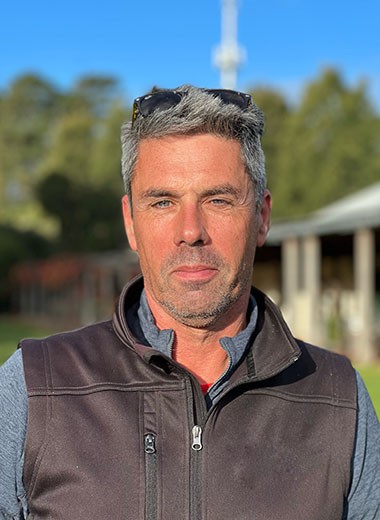 Tim Brown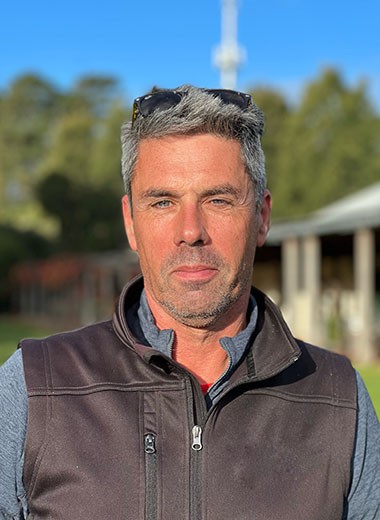 Tim Brown
VITICULTURIST
Tim began his viticulture career in 1990 at the pioneering iconic cool climate vineyard, Virgin Hills in the Macedon Ranges and continued over the next 15 seasons working with other producers in Macedon region and cool climate regions beyond, including Helm and Lark Hill in Canberra and Rochford in the Yarra valley, before joining Bindi as their first viticultural consultant.
"My Viticulture consultancy has given me the opportunity to travel, visit and work with many great new and established producers in diverse wine regions throughout Europe Australia and New Zealand. Much of this work has been in planning, establishment and management of new High-Density vineyards (planted five times more density than conventional) and farmed free of herbicides using only organic inputs"
Stonier is primarily where Tim spends his time since our change of ownership in late 2022. "It is a privilege to be able to work with such well-regarded mature vineyards and help drive an uplift in quality and productivity as we introduce best practice organic farming principals".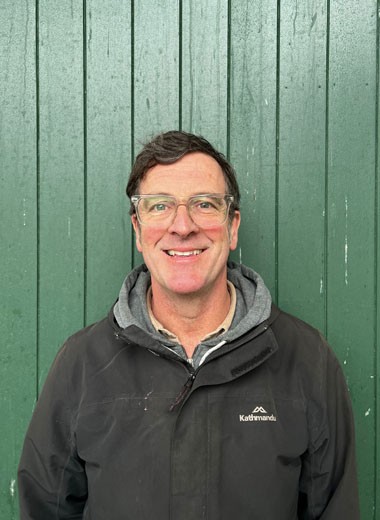 Duncan Buchanan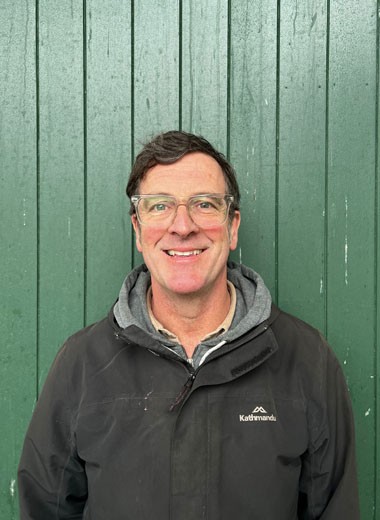 Duncan Buchanan
WINEMAKER
Duncan has 30 years of experience crafting cool climate wines the Mornington Peninsula is famous for; Pinot Noir, Chardonnay and Shiraz. Duncan has a wealth of knowledge, not only in winemaking but also viticulture and has honed his craft here in Australia as well as Burgundy, France; Barolo, Italy and The Okanagan Valley in Canada, working with renowned winemakers of those regions. When he's not in the winery, or wrangling his kids you might find him surfing, riding his bike or occasionally on the airwaves of 3RRR's Eat It program.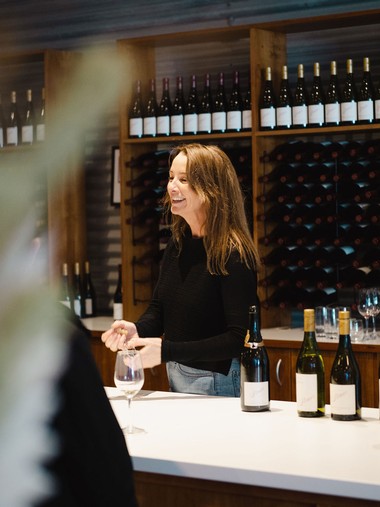 Paula Ercole
CELLAR DOOR & EVENTS MANAGER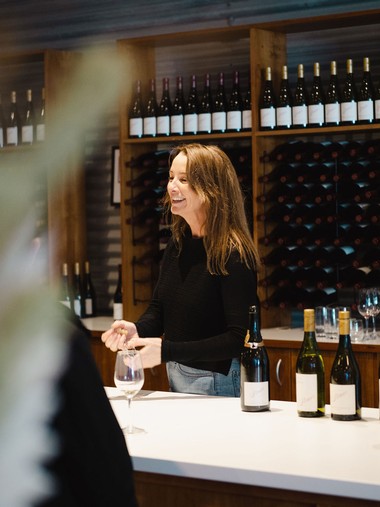 Paula Ercole
CELLAR DOOR & EVENTS MANAGER
Paula has a lot of experience in large scale events around food and wine. Her passion for the business and people is infectious as she manages the cellar door, collaborations with others in our community, and events at our cellar door!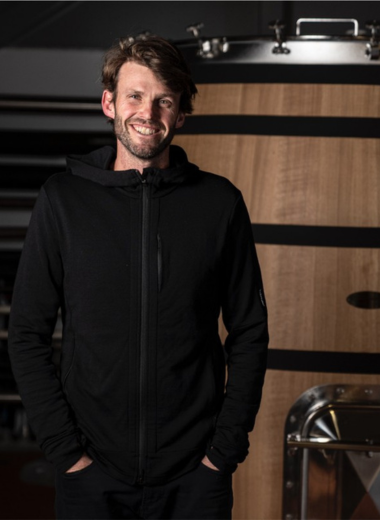 Julian Grounds
TECHNICAL DIRECTOR & CO OWNER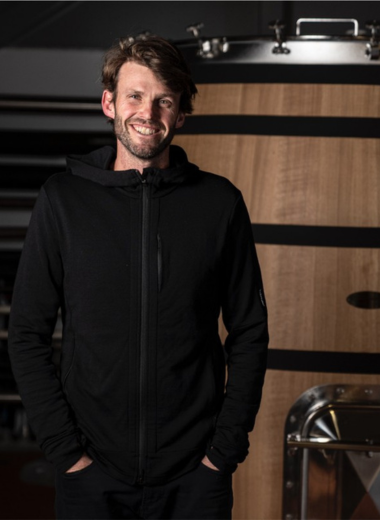 Julian Grounds
TECHNICAL DIRECTOR & CO OWNER
Julian is one of the most talented winemakers in the country and a great fit for our world class team and our aspiration to be one of Australia's benchmark producers. After graduating Dux from his Oenology and Viticulture studies, and receiving the Leeuwin Award for future leadership, Julian was awarded a scholarship to make wine in Burgundy.

After stints in Margaret River, Central Otago, and Oregon, Julian took up a role as Senior Winemaker at Giant Steps in the Yarra Valley, before returning to Margaret River to join McHenry Hohnen as Chief Winemaker in early 2017. Later that year, he graduated Dux of the Len Evans Tutorial, one of the biggest honours for Australian winemakers.

Julian has spent the last 5 vintages at Craggy Range as Chief Winemaker, helping to take the winery to the no.1 rank in the 2023 Real Review, highest ranked NZ & Australian winery in the 2022 Worlds Best Vineyards award. Julian will continue to consult to Craggy, supporting the transition to the new winemaking team.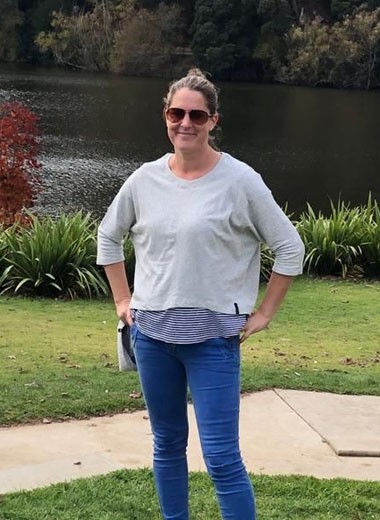 Selena Potter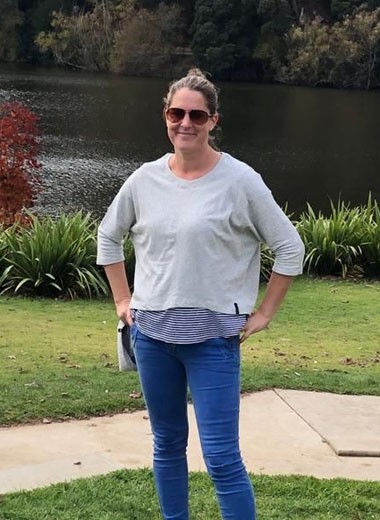 Selena Potter
CELLAR DOOR
Busy mum of 3 boys, favourite spot is the beach, enjoy yoga, gym and spending time with family or friends. Passionate about working with people either serving them in hospitality or supporting them as a support worker. Loves a good chat and making people smile.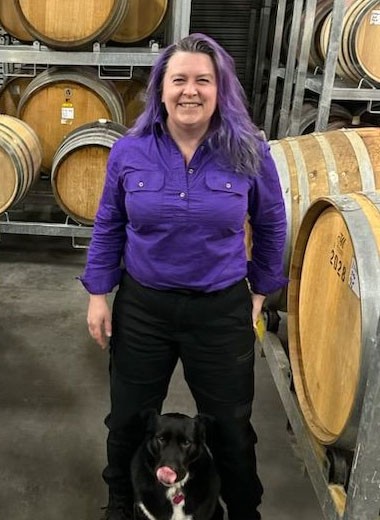 Andrea Walker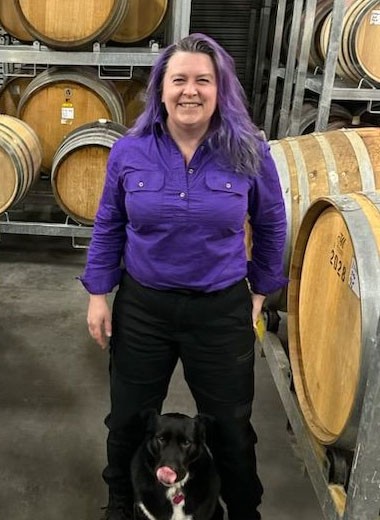 Andrea Walker
CELLAR HAND
Andrea has always had a strong cool climate passion, having worked in Geelong's Surfcoast & Bellarine, Yarra Valley and Tasmania. A multi-generational Melbournian, she broke the mould by moving to the idyllic peninsula in 2022 to work with Stonier as Assistant Winemaker. With a family background of small independent businesses, as such she was thrilled when Stonier was independently purchased in November 2022 aligning with her personal ethos.
After work Andrea can be found outside, noodling about with her dog, dawdling on the beach, riding her bike and missing Melbourne's iconic fresh food markets.
Although quite talkative, writing about herself is not a strong point.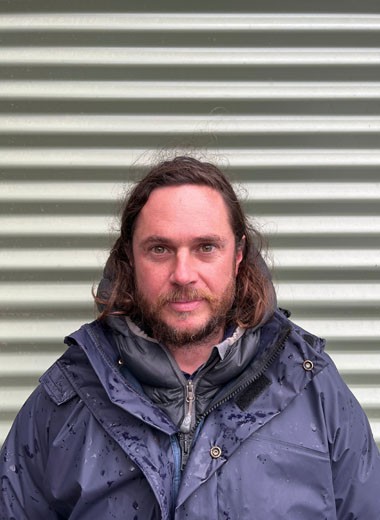 Josh Martin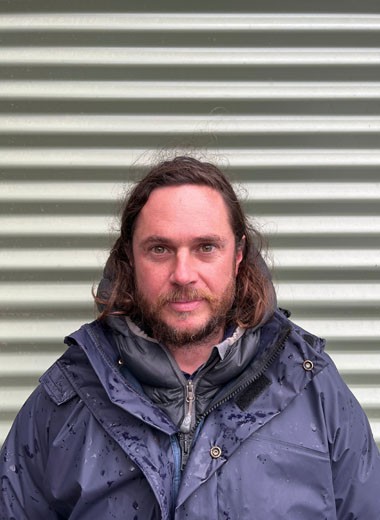 Josh Martin
VINEYARD MANAGER
Josh grew up in Shoreham and comes from a family of ceramic artists. After doing a Masters in Fine Art and Education at Melbourne University, his deep love of the land the surf brought him back to the Peninsula. Given his appreciation for aesthetics, eye for detail and strong work ethic he is an integral leader in the vineyard. Josh is also responsible for the grounds and the transformation of the site that has taken place since December's ownership change.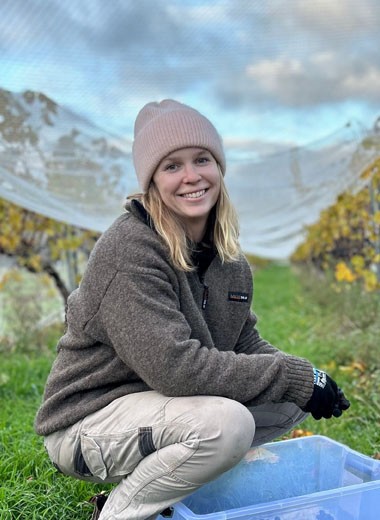 Sophie Flanagan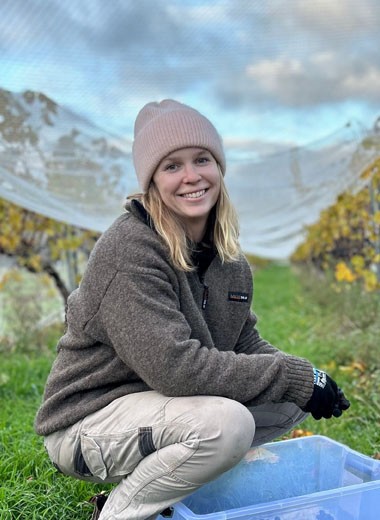 Sophie Flanagan
VINEYARD MANAGER
Sophie has completed multiple vintages on the Peninsula & Macedon Ranges whilst working in the Winery, Vineyards and Cellar Door at Stonier and is currently undertaking part time studies at Charles Sturt University.
She lives by the motto:
'A day without wine, is like a day without sunshine.'
Sophie brings a strong understanding of business management and hospitality having owned a bustling Melbourne Cafe with her sister for 7 years.
On her days off she can be found with her family and friends, entertaining and indulging in great food & wine.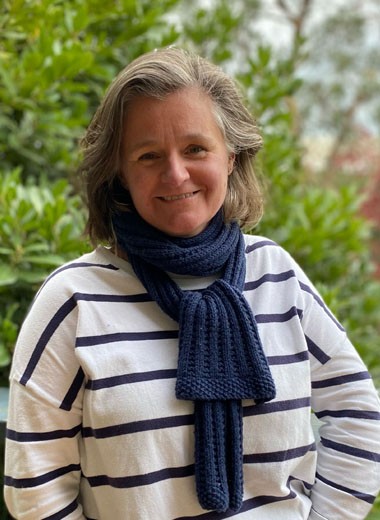 Nicole Griggs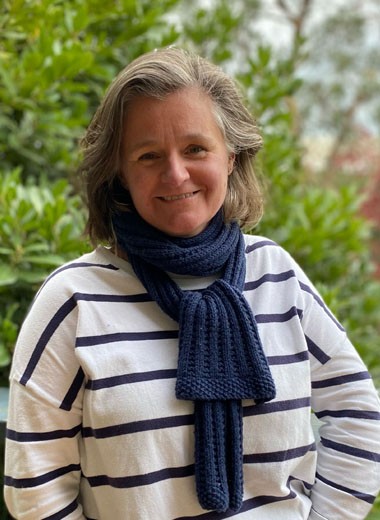 Nicole Griggs
ADMINISTRATION
Nicole is our longest standing staff member, having started 22 years ago when Brian Stonier was at the helm. Nicole is a source of knowledge for many of the staff, and is passionate about the Stonier business, with her daughter Imogen also involved in the vineyard.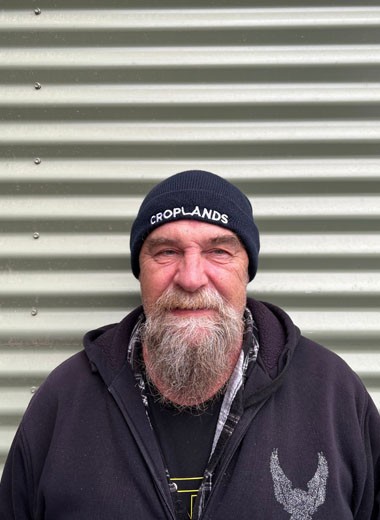 Len Wakelin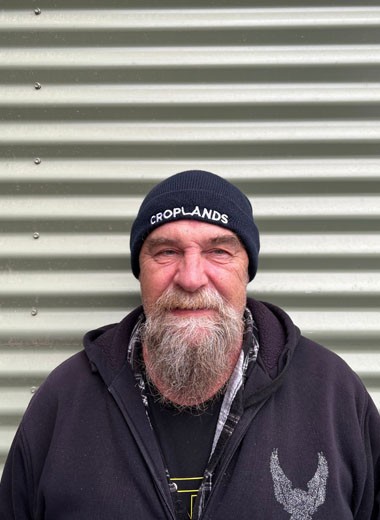 Len Wakelin
MACHINERY OPERATOR
Len is a Kiwi born machinery operator who does the thankless tasks with a nod or a grunt. He loves the outdoors and can be find with a beer in his hand over a fine Pinot, but we are working on converting him!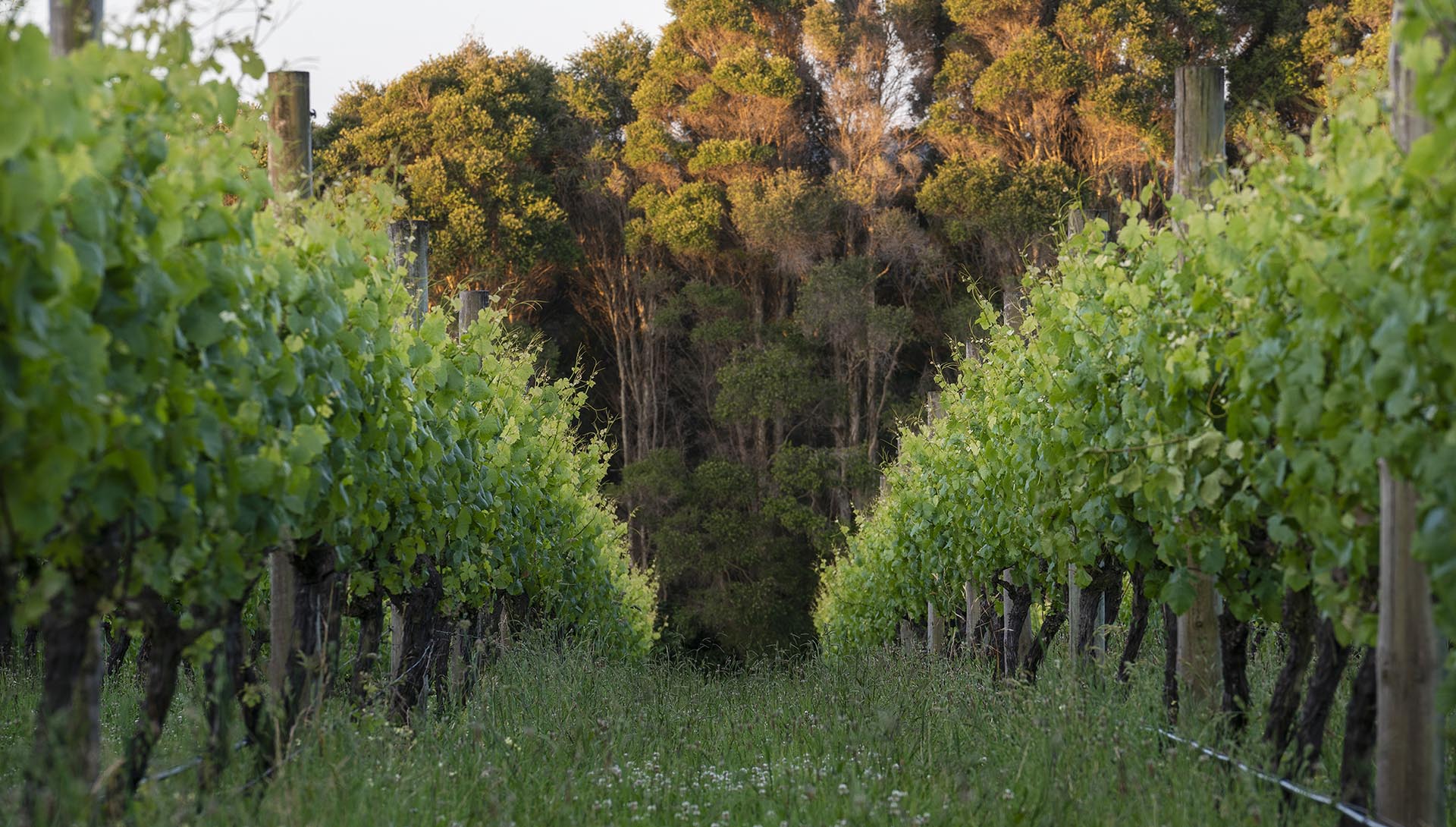 OUR VINEYARDS
Stonier's Mornington Peninsula vineyards are the foundation of our winemaking practice. Our wines showcase the premium quality and character of the fruit cultivated in our pristine cool maritime climate. The vineyards are guided to produce the best possible fruit from their given site within their natural constraints. Stonier's vineyard portfolio boasts some of the region's oldest vineyards, each one contributing nuances from within the different sub-regions of the peninsula.